NEW ZODIAX AQUARIUS #1 COVER set COMPLETE!
$

110.00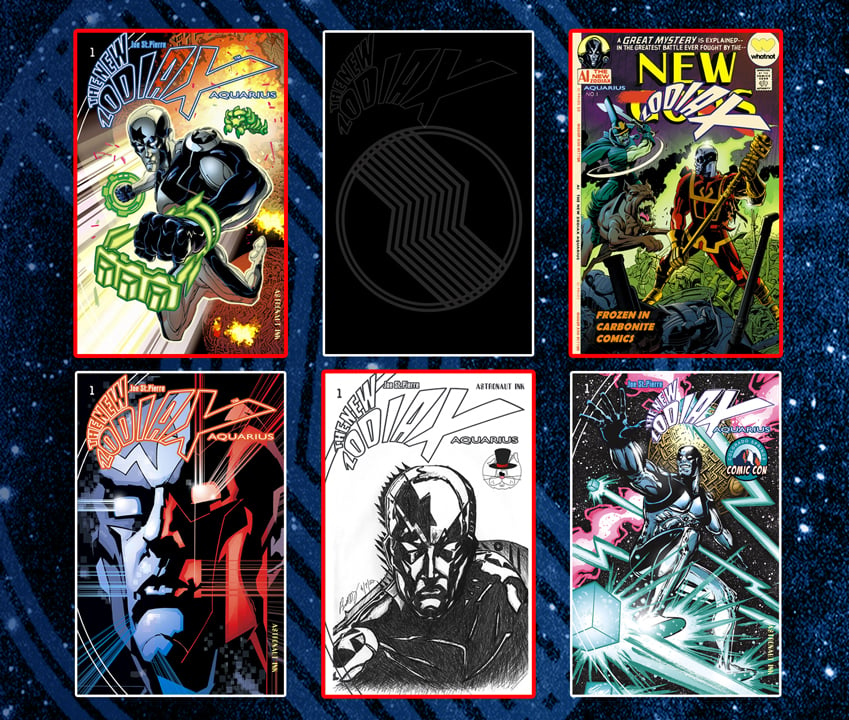 Twelve characters can channel the cosmic energies of the Zodiac! Meet the first, the New Aquarius! He's called the Liberaider, and he's the Robin Hood of Cyberspace!
48 pages, full color prestige format. Created, written and illustrated by Joe St.Pierre.
Cover A is available in all the best comic book stores, the most common edition.
Cover B is all black with matte on glossy finish, and limited to 250 copies! Image is altered to enhance the graphics.
Cover C is the Frozen In Carbonite Exclusive retailer variant, a New Gods/New Zodiax mashup. Limited to 150 copies!
Cover D is the rarest of all, only 100 copies printed!
Cover E is the White Rabbit Comics Exclusive retailer variant, with art by Young Rock superstar Brett Azar. Limited to 150 copies!

Cover F is the Colorado Springs Comic Con Exclusive variant, illustrated by Ian Chase Nichols.. Limited to 150 copies!
Individually, the set would cost you $135. Save $25 by ordering now!
Shipping is FREE in the US. International orders please inquire re: postage/handling fees.